Fifty years since the National Cancer Act of 1971 declared "War on Cancer" and a decade since the first drug, an immunotherapy, was approved to treat metastatic melanoma, a leading clinician researcher goes head to head with melanoma brain metastasis.
At age six, April Kelly Scott Salama, MD, already knew that she wanted to be a doctor when she grew up. Somewhere there's photo evidence of her playing in a balloon hat that's meant to be a scrub cap.
"No one knew why I wanted to be a doctor," said Salama, now a medical oncologist. "No one in my family was a doctor."
But two formative experiences that she had as a teenager further solidified the calling and led her to home in on the practice and science of oncology, specifically. First, her grandfather was diagnosed with lung cancer, got better, then declined and passed away—a heartbreaking experience for Salama. At the same time, her passion for molecular biology — critical to understanding how cancer works at the cellular level — was crystallizing in AP Biology at the public school she attended in Raleigh, NC, the city where she grew up.
Salama credits great mentorship — from her high school biology teacher, her undergraduate and medical school professors at UNC Chapel Hill, and her residency and fellowship mentors at the University of Chicago — for ultimately steering her toward a career at the intersection of cancer patient care and science. After completing her fellowship in the lab of Ravi Salgia, MD, PhD, an oncologist focused on translational lung cancer research, she made it her mission to return to her native North Carolina to care for patients and continue her research.
"I felt very, very, strongly about being able to serve patients in this area," said Salama. "I really felt I owed a debt of gratitude to the state that had educated me and set me down this path."
But, during her job search, Salama soon learned that there were no openings for a freshly-minted lung cancer clinician-researcher at any of the state's research hospitals. Duke, however, was looking to fill a long-vacant faculty clinician position in the Melanoma Disease Group. Surgical oncologist Doug Tyler, MD, then director of the group, was ready to train her.
Tyler's group was investigating immune checkpoint inhibitors, which work by helping the patient's own immune system to recognize and destroy cancer cells. The first of these immunotherapy drugs (ipilimumab) was months away from FDA approval to treat metastatic melanoma. A second one (nivolumab) was showing signs of promise, and a third one (pembrolizumab) was about to start clinical trials.
Early-stage melanoma was being treated solely with surgery, but up until that point there had never been a drug trial that improved survival in patients whose melanoma had recurred and spread to other organs. It was an exciting time for metastatic melanoma researchers, and they wanted to bring Salama into the fold.
"As division chief of medical oncology, I had the great fortune to recruit Dr. Salama from the University of Chicago, where she had distinguished herself both clinically and academically during her fellowship. While her work had been in lung cancer, I was convinced she could transition into melanoma as a clinical investigator with mentorship from Dr. Tyler, our melanoma surgeon and leader of our melanoma program in the Duke Cancer Institute (DCI) and currently at the University of Texas Medical Branch at Galveston," said Jeffrey Crawford, MD, George Barth Geller Distinguished Professor of Immunology.
Salama consulted her mentors in Chicago and together they agreed that pivoting from lung cancer to melanoma presented an undeniably exciting opportunity for her to be on the new front lines of cancer therapy research. Salama and her husband Joseph Salama, MD, whom she'd met while at the University of Chicago, packed their bags and headed south. 
A New Mission
When Salama arrived at Duke, Tyler helped her get her footing by mentoring her and advocating for her lead the melanoma group when she was ready professionally. Salama had the opportunity to involve Duke in some of the early national immunotherapy studies and combination-treatment trials for metastatic melanoma. She was involved with some of the early studies with pembrolizumab in melanoma as well as combination studies with ipilimumab and nivolumab that led to the approval of these agents for patients with metastatic melanoma.
Melanoma makes up only 1% of all skin cancer cases, but it's responsible for a large majority of skin cancer deaths, according to the American Cancer Society. That's because melanoma is much more likely to spread to other parts of the body if not caught and treated early, unlike non-melanoma skin cancers that are unlikely to spread, highly treatable, and often curable.
"The good news is that most melanomas are actually early stage — unlike in lung cancer or pancreatic cancer where the cancer is often first discovered at an advanced stage," Salama said. "Those early-stage melanomas are treated by our dermatologists and our surgeons and are highly curable. However, despite being completely removed, some melanomas can recur and spread. As a medical oncologist those are the patients, in particular, that I focus on trying to help with new therapies."
In 2015, Salama was named interim director of Duke Cancer Institute's Melanoma Disease Group. In 2017, she received a National Cancer Institute Cancer Clinical Investigator Team Leadership Award — one of only ten recipients nationally that year — which recognizes and supports outstanding mid-career clinical investigators. Executive director of Duke Cancer Institute, Michael Kastan, MD, PhD, who nominated Salama for the NCI award, said that under her leadership, the melanoma clinical trials program had received national recognition as "a leading site for patient accrual in a number of landmark melanoma trials."
In 2018, Salama was promoted from assistant to associate professor and, after a national search for director, was named permanent director of the Melanoma Disease Group. In December 2019, the director of Duke Center for Brain and Spine Metastasis at DCI, Peter Fecci, MD, PhD, and medical director of the center Cary Anders, MD, brought Salama into the center leadership as associate medical director, said Fecci, because of her "her expertise in novel clinical trial design and her exceptional clinical care of patients with brain metastases arising from melanoma."
Today, Salama is recognized as a leading melanoma clinician and researcher with growing expertise in melanoma brain metastasis. A physician first and foremost, she spends two days a week seeing patients in the Melanoma Clinic at Duke Cancer Center, rounds weekly at the hospital, and regularly conducts inpatient consults with melanoma brain metastasis patients.
In the 11 years since Salama began her melanoma career at Duke, the prognosis for the patients she treats — those with regionally advanced melanoma or melanoma that has spread to distant organs, including most commonly the lungs, liver, bones, and brain — has vastly improved. Before immune checkpoint inhibitors came on the market, median survival for patients with metastatic melanoma, excluding brain metastasis, noted Salama, was about nine months.
"Melanoma has become the poster child for immunotherapy," reflected Salama. "It was the first cancer type where these immunotherapy drugs were actually beginning to work and improve survival… Now we're at the point where median survival approaches six years. It's just tremendous."
Progress has been slower, however, in melanoma metastasis to the brain. A decade ago, the average life expectancy for these patients was a matter of months. With continuing advancements in surgery and stereotactic radiosurgery, and some forward movement with the newer targeted therapies and immunotherapies, the average overall survival of these patients is now more than a year.
That's much better than it was, but it's not good enough.
More than 50 percent of patients with metastatic melanoma will develop brain metastasis — if not at diagnosis, then at some other point — and most of these patients will be excluded from clinical trials.
"Historically, brain metastases are often life threatening and the treatments may not work quickly enough … So, this is a huge area of unmet need," said Salama.
Researching Therapies
Salama devotes about 40 percent of her time to clinical research; working with the melanoma team to improve patient outcomes through clinical trials — whether serving as a Duke site principal investigator on national trials or designing DCI investigator-initiated clinical trials.
"I'm a doctor first, my duty is to the patient. But what drives me is that I know we need better therapies and the only way we're going to get to that is through research," she said. "The first goal (in the field) was to find drugs because no one was living with metastatic melanoma. And now we have the drugs, the patients are living, but they may not be living well. I think we need to do better by our patients, how we select treatments for patients and the combinations that we use. As drugs get better and more selective, combination strategies will become more promising."
That Salama can even talk about "combination strategies" these days is demonstrative of how melanoma treatment and cancer treatment overall has evolved since she's been in practice. Immunotherapies, targeted therapies (drugs that target a specific genetic abnormality in a tumor responsible for driving that cancer in order to stop that cancer), and less-toxic chemotherapies have advanced on parallel tracks.
Clinicians across cancer types are now utilizing various combinations of these drugs in an effort to optimize their effectiveness, avoid resistance, and minimize harmful side-effects. Some of these strategies have been put into practice, while others are being tested in national multi-site clinical trials and homegrown clinical trials.
Initially there were high hopes that the new immune checkpoint inhibitors, which then and now only work in about half of patients with metastatic melanoma, might eventually work in melanoma brain metastasis patients.
Salama is expected to open a sub-study, soon, of a multi-site international clinical trial specific to melanoma brain metastasis, which will evaluate the safety and efficacy of the immune checkpoint inhibitor pembrolizumab alone and in combination with various investigational therapies.
Some of the latest treatment options in metastatic melanoma include combining anti-cancer drugs that target mutations in the BRAF gene with anti-cancer drugs that target mutated MEK genes, their close cousins. The BRAF gene makes a protein that controls several important cell functions, including cell growth. Mutated versions of this gene, which spur cells to multiply and spread out of control across cancers, have been found to have developed in more than half of patients with metastatic melanoma.
"Work is ongoing to figure out ways to increase that benefit in the brain. There are second generation BRAF inhibitors (anti-BRAF drugs) and other combinations in clinical trials right now that will hopefully prolong this benefit for patients," said Salama.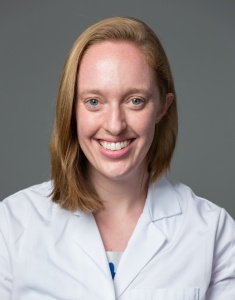 Under Salama's mentorship, Hematology-Oncology fellow Lucy Boyce Kennedy, MD, led a study investigating the molecular drivers of melanoma brain metastases using published genomic sequencing data from MD Anderson Cancer Center and the Duke Brain Tumor Biorepository — the findings from which could potentially be used to develop new targeted therapies. Boyce Kennedy, who completed her fellowship in May, received a 2021 American Society of Clinical Oncology (ASCO) Merit Award for a recent presentation reporting on the study's initial findings.
Salama, a big believer in the mission of education, is invested in training the next generation of oncologists through research mentorship and is committed, in this process, to helping foster a diverse and inclusive environment at DCI. Her EMPOWER initiative — Engaging Mentorship for the Promotion of Women in Oncology Research — matches women faculty at the instructor or assistant professor level with a career coach (senior male or female faculty) who will help them navigate the professional challenges and opportunities in oncology.
Known by colleagues and administrators as having "zero ego," Salama has a "rising tide lifts all boats" leadership philosophy. She emphasized that the work of the Melanoma Disease Group is a collaborative effort. When one is part of a cancer treatment revolution, there is no 'I' there is only 'we'.
"Over the last decade, treatment options for patients with melanoma have exploded and Dr. Salama has rapidly emerged as a national leader in her field, as well as being a strong advocate for women in medicine," said Crawford. "All of us in the DCI are very proud of what Dr. Salama has accomplished and are very excited about the bright future that lies ahead for her and the field of melanoma."
Duke Cancer Center Melanoma Clinic
Services
The Duke Cancer Center (Durham) Melanoma Clinic is staffed by specialists who provide consultations for people suspected of or diagnosed with melanoma and advanced skin cancers.
Hours
Monday through Friday,
8 a.m. to 5 p.m.
Location
Clinic 5-1
Duke Cancer Center
20 Duke Medicine Cir
Durham
,
NC
27710-2000
Make an Appointment
Call 919.660.9671 for new patient referrals and patient self-referrals